SPECIAL FEATURE
Philip Ahn
Tia Carrere
Margaret Cho
Church of Rhythm
Michael Kang
Hiroshima
James Hong
Michael Kang
Bruce Lee
Jet Li
Keye Luke
YoYo Ma
Martial Law
Minoru Miki
Lea Salonga
Dalip Saund
George Takei
Kiana Tom
Tamilyn Tomita
Ming-Na Wen
Anna May Wong
Russell Wong
HOME

SECTIONS
Actors
Actresses
Athletics
Authors
Cartoonists
Dancers
Directors
Film Festivals
Musicians
Newscasters
Photographers
Television Shows
INDIE FILMS
Fish Sauce Breath
"Forbidden City"
Niche Films' Success
Quest for Length
Toyo Miyatake
APA 1ST W/E CLUB
November 11, 2002
November 15, 2002
December 7, 2002
COMMENTARY
Don Duong
Martial Arts Influence
Indo-American Films
Media Ownership Limits
Police Movies' Success
Reality Shows Provide Networks' Cheap Shows
Playing the Same Roles
Musicals
Sequels
TV Stereotypes
Unscripted TV Shows
Wanna Be a Star?
RESOURCES
Children Now's
FENNEC Database
Poop Sheet
Wanna Sell a Script?
Interview with Eric Byler
Discover the Passions That is Behind
The Creation of the film "Charlotte Sometimes"
Part 6 of 6 Pages

FILM REVIEWS AND NOMINATIONS

US ASIANS: Did the Roger Ebert review open any previously unopened doors for your film?
FILM DISTRIBUTION
TRADITIONALLY, large institutions finance films: movie studios, film financing businesses and even independent sources with roots in money, such as consortiums of wealthy individuals.
UNDOUBTEDLY the most costly art form, movies then are subject to gatekeepers who deem a project as "worthy" based predominantly upon track record. It also helps to have above the title names associated with it.
DISTRIBUTION IS KEY in securing financing, for the film that is perceived as marketable has the advantage of being "pre-sold" in markets – the distributors will gladly commit to distributing the finished product by guaranteeing a certain amount of screens.
THUS, WHEN STEVEN SPIELBERG casts his lot in a project, a studio can then begin making projections based upon distribution commitments.
IN OTHER WORDS, the studio has a reasonable projection of how much the movie will make apriori, based upon history. At its most base level, as a marketable commodity, a Spielberg film carries tremendous clout in the marketplace.
ERIC BYLER: Yes, many. Theatrical distribution seemed very unlikely three months ago. Most distributors chose not to see the film before the review came out. All they needed was a description -- Asian American relationship drama, no guns, and no kung fu. They said no without having to see it. After the review, the film was harder to dismiss.
(Note: In April of 2003 - "Charolotte Sometimes" production company announced that the film will be opening on the following dates:
Chicago on May 2nd
San Francisco and San Jose on May 9th
Berkeley on May 16th
Los Angeles on June 20th and
Hawaii July 11th.
The latest updates can be found at the film's website at www.CharlotteSometimesTheMovie.com.
US ASIANS: What about the IFP Independent Spirit Award Nominations?
ERIC BYLER: Same thing. People are even more curious now – it's pretty unusual to see a tiny movie get nominated with all these high profile films with famous actors and famous directors.
It's a slow process for a film like this, but each time you get an award or nomination or good review, people start to focus a little more on the achievements and a little less on the obstacles.

US ASIANS: You've had various reviews on your film, which one had the most productive effect and which review meant the most to you?
ERIC BYLER:
Roger Ebert is a master. When I read his essays, I learn-- not just about the film he's discussing, but also film as a medium. It was unreal to meet him in person, and actually hear first hand what his take was on "Charlotte Sometimes." His review of course meant a great deal to me.
Robert Koehler's observations in Variety meant a lot to me as well, because they were so keenly focused on the formal elements of cinema.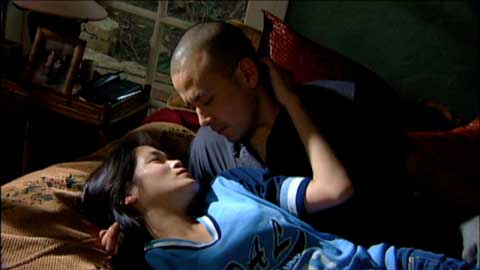 Michael and Eugenia
But I also value the negative ones. I really want to find out how Americans feel about the issues this film brings out - both in terms of its content and its existence.
A critic from The Orlando Sentinel completely trashed the film and called it "a slow boat to China." Of course I was bummed. But it was worth it, if only to learn that in this day and age, a professional journalist might choose those words to describe a film with Asian American actors.
A few days later, "Charlotte Sometimes" won the Special Jury Award at the same festival for which he'd reviewed it. Good or bad, if people are reacting strongly and with passion, that's all I could really hope for.
US ASIANS: Any reviews in the L.A. Times or N.Y. Times?
ERIC BYLER: Those will come when we release the film theatrically in those cities. Normally, you ask the big papers not to publish reviews until people can see it. The Chicago Sun-Times is a big paper of course, but Ebert's review was actually an installment of his weekly column.
US ASIANS: Thank you for your time.
MATT WESTMORE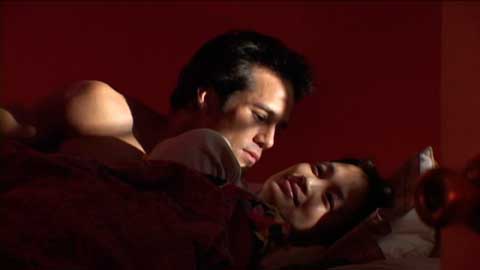 Matt Westmore and Eugenia Yuan

Born and raised in Los Angeles to an Indonesian mother and a father of English descent, Matt began his acting career when he was 5 years old a the Redlands Bowl performing in Madame Butterfly and the Magic Flute.

He continued his interest in theater at the Shrine Auditorium working alongside Peter Horton and Kathryn Hays in South Pacific.

Matt debuted on the small screen during the international success of Baywatch.

This led to recurring roles on Aaron Spelling's Sunset Beach, CBS' Pensacola Wings of Gold, and SCI- FI's Invisible Man.

2001 has proven a busy time for Matt having recently completed the feature Shakedown opposite Ron Perlman, Fred Dryer and Erica Eleniak. Matt has also starred in the indies "Hard as Nails" for Concorde- New Horizon, Southside opposite Brian Austin Green.
Any questions regarding the content, contact Asian American Artistry
site design by Asian American Artistry
Copyright © 1996-2003 - Asian American Artistry - All Rights Reserved.